Face Exfoliants
GENTLE AND EFFECTIVE EXFOLIATION FOR ALL SKIN TYPES AND CONCERNS
SkinCeuticals face exfoliants remove the dead skin cells that can lead to dull skin, uneven skin tone, and rough skin texture. These advanced formulations address a range of skin concerns and are beneficial for blemish-prone skin, visible signs of discoloration, and premature signs of aging. SkinCeuticals face exfoliants include ingredients to hydrate, clarify, and absorb excess oil.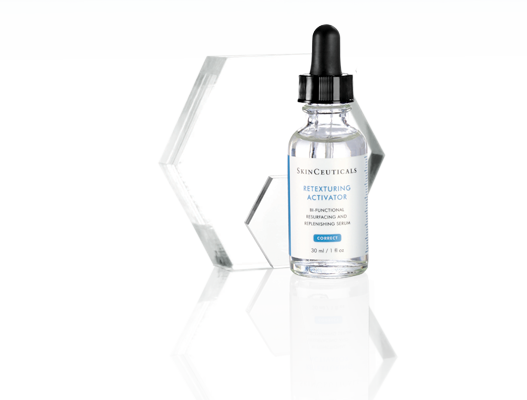 A concentrated night cream with pure retinol improves the appearance of visible signs of aging and pores while minimizing breakouts.

Smoothing exfoliating scrub with hydrated silica effectively cleanses pores and exfoliates to hydrate, soften, and improve skin texture.

This oil-free serum simultaneously exfoliates skin and replenishes moisture for radiant, smooth skin.

Glycolic acid toner to help get rid of clogged pores and remove surface dead skin cells with lipo-hydroxy acid.

An oil-free face serum that reduces the formation of adult acne, and improves visible signs of aging.

A high-concentration pure retinol cream for experienced retinol users to improve the appearance of visible signs of aging and pores while minimizing breakouts.

Glycolic 10 renew overnight improves the appearance of skin texture and tone to promote a bright complexion and glowing skin.

Achieve a more even, luminous complexion with Brightening System.

High performance clinical regimen to fight acne and aging.

A two-in-one daytime antioxidant serum that provides environmental protection and exfoliation.

Daily dark spot corrector targets visible skin discoloration for brighter, more even-looking skin

Exfoliating gel cleanser decongests pores, smoothes skin texture, and brightens skin.