For most of us, smile lines – also known as nasolabial folds – are nothing to smile about. These lines and creases run from the side of the nose to the corner of the mouth, and are the result of the loss of facial volume and skin elasticity as we age. They can make you look older, tired, or unhappy – even though you feel youthful inside. Fortunately, treatment with RADIESSE® can help replenish youthful volume and stimulate your own collagen production, minimizing the appearance of those pesky facial lines, wrinkles, and folds that mask our smiles. Best of all, results are clinically proven to last a year or more in many patients.

Treatment with RADIESSE® takes only a few minutes, so your smile lines can be softened during your lunch hour. RADIESSE® provides results that can last up to a year or more – now that's something to smile about!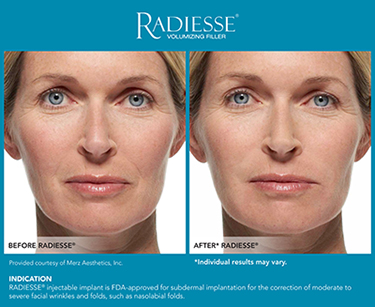 RADIESSE works by immediately restoring facial volume to correct wrinkles and folds for natural-looking results that can last up to one year in many patients.